Fumes from the fire can escape into the ventilation system and spread everywhere. The entire home could be on fire in a matter of minutes.
Fire Sentry contains siliconated beads of baking soda that won't cake up, and won't spread a grease fire as fire extinguishers will. It's always ready to put the fire out quickly.
Stovetop fires result in more home losses than any other cause.
Put one in each of your car's glove compartments to douse an engine fire or other fire emergencies.
These make great gifts for the conscientious and practical people in your life.
You can even pour water in the bottle and it'll stay dry, so it'll be ready by your stove or in your car indefinitely since condensation will not affect it.
Preparation is the answer to preventing a fire disaster. Get a Fire Sentry for your car and one to keep by your stove.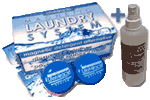 Never Buy Laundry Soap Again
Non-toxic Non polluting Hypo-allergenic Softens hard water Will not damage fabrics Color safe No static cling Lifetime warranty No chemical residues Cleaner, longer lasting clothes
---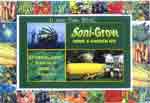 Grow Plants Better and Faster!


With the sounds of nature and organic nutrients, you'll get greater yields, better plant vitality and natural pest resistance.
---
Non-Toxic Fire Retardant
Out- performs the toxic varieties