Make Money
Innovation and Invention have always been derided and made fun of throughout history, from the insanity of the Wright Brothers to the silly and stupid inventions of Alexander Graham Bell.
Become a BeFreeTech Worldwide affiliate in our two tier affiliate program.
Many / most of the products ordered from this website can net you a 10% commission when you sell them (first tier) then you can also earn 5% (second tier) when your customers also sign up and sell these products.
You can register for free as a customer with no obligation to buy anything, and then you can be ready as an affiliate, with your own instantly created replicated website that you can use to promote these great products.


Send your link out in an email to friends and associates, and / or add it to your own website. You'll be helping people find items that will benefit them while you make some money doing it.


Payouts to you, as a commissioned affiliate are made with Paypal.


Note: SSN's are NOT needed, required, or requested by BeFreeTech.com

It's FREE
Join BeFreeTech Worldwide as an Affiliate
Sell the Revolutionary Products Worldwide using the JEM (Jrox Ecommerce Management) System at BeFreeTech.com
Use the supplied banners and product links in your sales effort
You have no investment other than your time doing promotion. The affiliate relationship is entirely FREE and all order processing and costs are covered by BeFreeTech.com
Earn 10% of the gross sale on the first tier and 5% on the second tier on included products.
Get a replicated web site for FREE just by creating an account

To create an FREE account: Click Here
After completing the account profile page, you'll be able to login to your FREE affiliate back office where you can see your sales tools, commissions and down line.
Then by going to individual products after logging in to your own URL, you'll be able to promote individual products by copying from the link that appears under each product to an email or web site. The link will include your user ID, so you'll know that if anyone orders from that link the commission for the sale will show and you'll instantly have a new potential affiliate who's profile is already recorded in your down line. The JEM system sets up your new customer as an affiliate / partner in your down line automatically without any additional effort.
You may promote the entire site by using the order link you will see on the main menu or use your replicated web site link above in outgoing emails or on your web site to invite customers to order.
Payments of your commissions are made typically within a month at the point $100 is reached. Payment notification is by email at which point you'll be prompted to setup a PayPal account and receive the money, and then use it from your paypal account or put it in your bank account for FREE. If you want to receive a check, Paypal charges only $1.50 for this.
The effect of having your referred customer click your link, persists for up to a year. That means that if your customer comes back to the BeFreeTech.com web site and orders within a year from the time they first clicked your link they'd still be ordering from you as referrer and their up line if they join as affiliates. You'll earn commissions on their purchases and on their sales.
Note: SSN's - (Slave Surveillance Numbers) are NOT used or needed here.
Register for FREE with the BeFreeTech.com affiliate program by clicking below:
---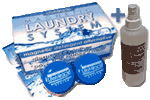 Never Buy Laundry Soap Again
Start saving all the money you have been spending on Laundry Soap. Use our Magnetic Laundry System which is non-polluting, won't damage fabrics, and comes with a Lifetime Warranty
---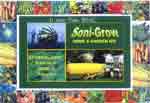 Grow Plants Better and Faster!


With the sounds of nature and organic nutrients, you'll get greater yields, better plant vitality and natural pest resistance.
---
Safely Extinguish Stove (or Car) Fires


Small Handy Stove Fire Eliminator. Watch the video and discover how and why this little bottle could save your family's lives and home.