Septic & Grease Tabs



Just drop one in your septic tank every year or so to naturally clean the waste from your septic tank. The microbes in the tab are time released from the tablet to maintain the microbial bio-remediation action.
Reduces or eliminates septic tank pumping.
Grease Tabs

GT-Tabs contain safe and natural bacteria that have been proven to reduce the buildup of grease, fats, oils, proteins, lipids and detergents in grease traps.
The bacteria in GT-Tabs actually digest the biodegradable contents of a grease trap and will reduce the frequency of pumping. GT-Tabs will also reduce bad odors such as the rotten egg odor (hydrogen sulfate).
GT-Tabs are safe and very easy to use. Simply drop them directly into the grease trap. The slow release design delivers a constant supply of bacteria directly where it is most need, the grease trap.
Application Rate: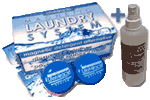 Never Buy Laundry Soap Again
Non-toxic Non polluting Hypo-allergenic Softens hard water Will not damage fabrics Color safe No static cling Lifetime warranty No chemical residues Cleaner, longer lasting clothes
---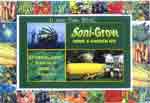 Grow Plants Better and Faster!

With the sounds of nature and organic nutrients, you'll get greater yields, better plant vitality and natural pest resistance.
---

Non-toxic Fire Retardant
Out- performs the toxic varieties